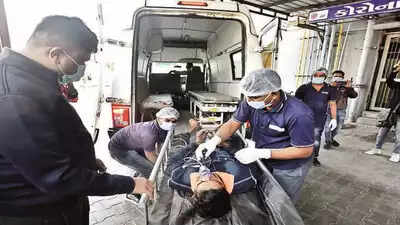 Mumbai: Over 1,300 hospitals, both public and private from across the state, participated in an online mock drill on Tuesday as part of the COVID-preparedness exercise.
In the city, a few hospitals such as BMC-run Seven Hills Hospital in Andheri and state-run JJ Hospital in Byculla, carried out proper mock drills to ascertain the response time at each level. Dummy patients were rushed in wheelchairs at JJ Hospital.
The BMC had on Monday itself made a checklist of its infrastructure and manpower resources. For instance, the drill found that only 1,021 out of the 1,613 oxygen-supported beds were functional. While supply of oxygen, medicines and PPE kits were found to be adequate, only 35 out of 46 basic ambulances were functional.
"A review of available hospital beds, ICU facilities, equipment, oxygen system, medicine stocks, human resource and their training, telemedicine facility was taken for all hospitals across the state," said state surveillance officer Dr Pradip Awate. He said 610 government hospitals, 628 private hospitals, 28 government medical colleges and 27 private medical colleges participated in the drill. The Covid mock drill was carried out simultaneously across the country.
Dr Maharudra Kumbhar from Seven Hills Hospital, which will be BMC's main COVID centre, said that the drill assessed availability and capacity of medical oxygen as well as smooth working of the oxygen-carrying channels. "Aspects such as following medical procedures while simultaneously treating patients requiring intensive care treatment and other COVID-infected patients were also looked at," he said.