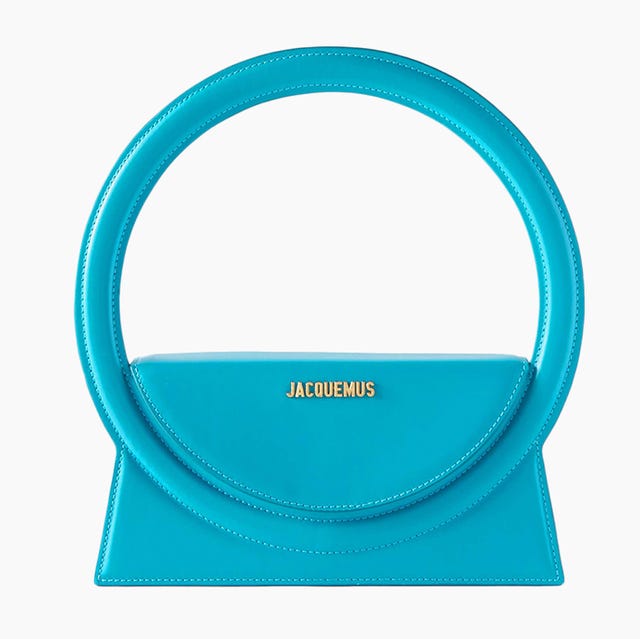 Courtesy of retailers
So, you've found yourself with an overflowing social calendar. It comes as no surprise, given that 2022 is more or less the year of weddings and other special occasions. With so many events and gatherings to look forward to, you're probably wondering what to wear for each one. Perhaps you already have your wedding guest looks mapped out for those upcoming plans. But if I've learned anything from personal experience, having the right evening bag to round out your ensemble makes all the difference. After all, there's no better way to carry your phone, lipstick, and other evening essentials than with the right handbag.
Whether you're searching for a classic purse to seamlessly compliment your wedding guest dresses or you need the perfect little statement clutch to carry for that upcoming black tie gala, there are plenty of pretty evening bags to go around. On top of that, a lot of these options fall into the latest bag trends. Ahead, the best evening bags to help you (literally) carry the night away.
Advertisement – Continue Reading Below
A Pop of Color
Hera Nano Rhinestone Shoulder Bag
A Pop of Color
Mini Purse
I'll never get tired of this shade of green. Odds are, neither will you.
A Pop of Color
Large Leather-Trimmed Satin Clutch
A Pop of Color
Rond Leather Shoulder Bag
Perfect for any time of day, really.
A Pop of Color
Embellished Top-Handle Tote
There's something so charming about this candy-colored mini tote.
Covetable Crystals
Crystal Fringe Bean Bag
What's that? Oh, that's this bag taking your breath away.
Covetable Crystals
Rhinestone Trihedral Clutch Evening Bag
There's a reason this little bag has a near-perfect rating based on over 2,300 reviews, and the under-$20 price point is only one of them.
Covetable Crystals
Crystal-Embellished Velvet Shoulder Bag
Just imagine the way this will move when you walk. (By the way, it's on sale for 50 percent off!)
Covetable Crystals
Evangelie
Whether you're going to a gala or just a girls' night out, this bag will be perfect for all your evening affairs.
Covetable Crystals
Embellished 3D Heart Clutch
For those of you who want to wear your heart on your sleeve.
Cool Crossbody
Mini Bow Bag
Simple and classic; you won't go wrong with this pretty bag.
Cool Crossbody
Chain Clutch Bag
You'll love this so much, you'll want to wear it around the clock (trust us).
Cool Crossbody
Quilted Iridescent Shoulder Bag
Everything about this bag is eye-catching.
Cool Crossbody
Zahara Feather Clutch
Could there be anything better than a bag made of feathers?
Cool Crossbody
Chain Mini Cloud Clutch
Reader, meet your new special occasion clutch.
Cool Crossbody
Gabine Crossbody Bag
This comes with an adjustable and detachable strap, which means you can wear it as a crossbody bag or as a shoulder bag—the choice is yours.
Sling It On
Le Pas De Deux Baguette Shoulder Bag
Classic pearls just got a major update in the form of this purse.
Sling It On
Bean Beaded Shoulder Bag
Staud can do no wrong in my book. I mean, just look at this zebra print!
Sling It On
Mini Crystal Swipe Leather Top Handle Bag
Now this is a statement purse.
Vegan leather and a liner made of 100 percent recycled materials? Sign me up.
Sparkle and Shine
Elina Plus 18K Goldplated Mirrored Clutch
The type of evening bag you keep in your wardrobe for a lifetime.
Sparkle and Shine
The Mini Seville
Glitz and glamour are plentiful here. This is one bag you won't ever get enough of.
Sparkle and Shine
Dulce Stud Metallic Shoulder Bag
Want a '90s touch to your evening looks? Throw this over your shoulder.
Sparkle and Shine
1969 Small Chainmail Shoulder Bag
This bag has been in my cart and in my heart for literal years.
Sparkle and Shine
Mini Retro Bag
A little shimmer never hurt anyone.
This content is created and maintained by a third party, and imported onto this page to help users provide their email addresses. You may be able to find more information about this and similar content at piano.io
Advertisement – Continue Reading Below