Mumbai: Aspirants seeking admissions to MD and MS courses in Maharashtra this year will have almost 700 more seats to vie for in government- and civic-run colleges.
The intake capacity in postgraduate medical courses may cross 3,000 for the first time in the state from close to 2,500 now. If absolute numbers are taken into account, this could be the highest jump in seats in the state in recent years. In about six years, the seats have more than doubled in the state's colleges.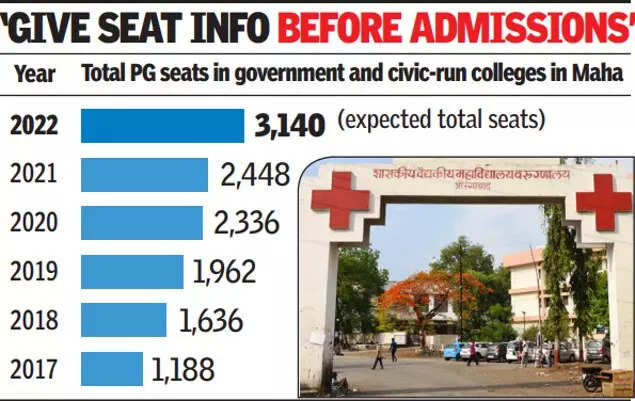 Under the central government's sponsored scheme for 'strengthening and upgradation of government medical colleges for starting new postgraduate disciplines and increasing seats', 692 seats are to get approved for Maharashtra. The state's medical education department, too, had sent a proposal to the Centre to increase seats across 15 colleges for 2022-23, based on their existing infrastructure last year.
An official from the Directorate of Medical Education and Research (DMER) said approval has already come from the Centre for some colleges where the inspection was completed and others are in the process. A state official said they needed to add to the manpower. "We need more specialised doctors and an increase in postgraduate seats will ensure that. We had proposed an increase of almost 25% in colleges which fulfil all criteria. Approvals will come through only after inspections by the National Medical Commission," said the official.
Parent representative Sudha Shenoy said, "The government should ensure the information on new seats is released before admissions commence."
Data tabled by the union ministry of health and family welfare in the Lok Sabha last week, showed more than 4,000 PG seats have been approved across the country, of which Maharashtra's are the highest in phase I.
The proposal sent by the state last year sought additional seats in JJ Hospital college, BJ Medical College, among others. Courses such as surgery, pathology and community medicine are likely to see an increase.