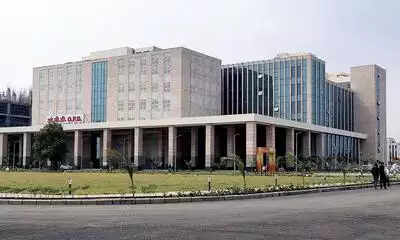 NAGPUR
: Announced three months ago, the All India Institute of Medical Sciences (
AIIMS
) Nagpur got city's second genome sequencer under the sponsorship programme of international health facilitators Jhpeigo-RISE-USAID. It is through this hands-on-training in collaboration with JHPIEGO-USAID-RISE and with the setup of the sequencing laboratory,
AIIMS Nagpur
became the first medical institute to establish the whole genomic sequencing facility in Vidarbha region.
The Neeri lab was the first to independently set up a whole genome sequencing (WGS) lab in Vidarbha in Janaury. Before both these projects, the GMCH VRDL had submitted a proposal to the state government for starting the genomic study. But, till date, the medical college is yet to get its own facility.
On April 7, TOI had reported about the central institute's success in landing the project for Maharashtra.
The faculty and research scientist of AIIMS VRDL have been trained in WGS/NGS at NIV.
Dr Meena Mishra, professor and head, department of microbiology at AIIMS Nagpur, a quality check was performed last week on 19 samples to determine the sequencer's efficiency. "ICMR has asked National Institute of Virology (NIV) at Pune to provide us flowcells – a chip to process the samples for genomic sequencing. Each chip having around 90 sample capacity is worth over Rs75,000," she said.
The genome sequencer has a capacity of 96 samples with a turnaround time of 3-4 days. AIIMS Nagpur is utilizing the Covid positive samples from its Viral Research and Diagnostics Lab (VRDL). The VRDL receives RTPCR samples from Nagpur city and rural areas. "We are ready to accept samples from anywhere. ICMR has asked us to share the results with NIV which will release the data on behalf of AIIMS Nagpur on INSACOG (Indian Sar-Cov2 Consortium on Genomics) portal," Dr Mishra said.
The machine would also be used for a multiple research studies though it has been sponsored mainly for Covid survelliance. "It can be used for TB, detecting anti-microbial resistant genes, genetic associations in malignancy, etc," she said.
Director Dr Vibha Dutta and medical superintendent Dr Manish Shrigiriwar said USAID-RISE-JHPIEGO provided technical assistance to Maharashtra to strengthen the molecular diagnostic laboratory with genomic sequencing platform (NANOPORE) in the microbiology department.
The team undertook an exhaustive training session for five days on WGS at AIIMS, Nagpur. The training comprised various informative and elaborated sessions on important topics related to next-generation sequencing (NGS).