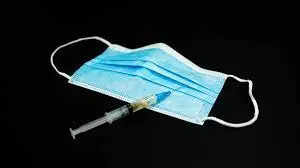 Panaji: Stating that complacency has set in and that vaccination has slowed down, the state directorate of health services has advised people to wear masks in crowded places and get fully vaccinated in the event of a possible fourth wave.
State epidemiologist Dr Utkarsh Betodkar said that it is difficult to say whether the fourth wave has started or if Goa is at the tail end of the third wave. Daily cases during the past few weeks had touched zero, but have now risen to an average of 9-10 per day, with active cases touching 67on Tuesday.
"Covid always presents surprises. Perhaps the fourth wave will have the same variant or another variant," he said.
Health director Dr Geeta Kakodkar appealed to the 60+ population and those with comorbidities like hypertension and diabetes, and children, to complete their vaccination schedule.
"We can't say what will happen, but we have to be ready and vaccination is our only weapon," she said. "The immunity of the vulnerable population will be better with vaccination. It takes time to build immunity, and this has to be done as early as possible. It is advisable to wear masks in crowded places. It's advisable, not compulsory."
She added that there are few takers for the precautionary/booster doses among the 60+ population, and vaccination in the 12-14 age group.
State immunisation officer Dr Rajendra Borkar told reporters that if a fourth wave hits, it is likely to affect children more than adults because most adults are double vaccinated, some with the precautionary dose.
People have turned complacent and as a result, vaccination has slowed down. "There are few cases, and hence, people think everything is fine, and therefore, the pace of vaccination has slowed down," he said. "Don't be satisfied that everything is fine. The tables can turn anytime, cases could rise, and the situation might go out of hand. Before this happens, we request everyone to complete their vaccination."
The impact of the third wave was not severe because most of the population was vaccinated with both doses, he said. "Hospital admissions, complications and deaths were minimal in the third wave," he said.
"One dose of the vaccine gives only 50% protectivity, two doses 70% and three doses 90% and above," he said, appealing to people to take the booster/precautionary doses.
He added that vaccination — first and second doses — continues to be free in all government health centres. Only booster doses for 18-60-year-olds are chargeable at Rs 386 per dose and available only at private hospitals. He named Horizon hospital and Trimurti hospital in South Goa and Manipal hospital, Redkar hospital and CROM in North Goa where those in the 18-60 group can get their shots.
For the 60+, healthcare workers and frontline workers, the precautionary booster doses are free at government facilities on certain days of the week.
Betodkar said that few people were affected during the third wave due to herd immunity and vaccination immunity. Though the recovery rate is 98.41%, he said the recovery rate during the third wave was 99.51%.