Several pharma companies have expressed their concerns over the government's move to implement trade margin rationalisation (TMR) on innovative or patented drugs that these companies provide to patients for little or no cost. Many companies run a patient assistance programme (PAP) designed to provide free access to those drugs which are otherwise expensive.
The government has proposed to include TMR on PAP products. According to the companies, the move will impact reference pricing and severely impact patients who end up paying more for such products, people in the know told ET.
The representatives of Organisation of Pharmaceutical Producers of India (OPPI), which represents multinational pharma companies and domestic pharma representatives that run PAP programmes, will meet minister of health and family Mansukh Mandaviya and officials from department of pharmaceutical (DoP), National Pharmaceutical Pricing Authority (NPPA) on Monday to discuss the issue regarding TMR on PAP drugs.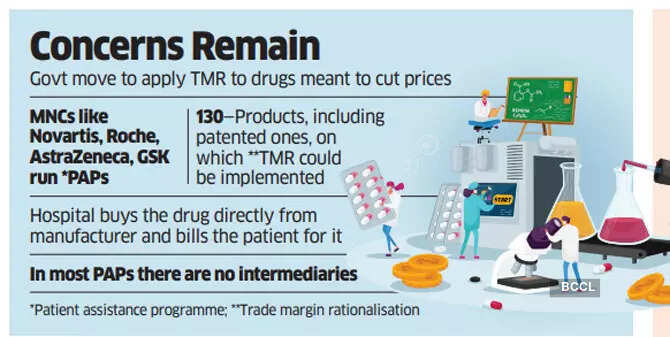 "The companies are not concerned about TMR, but the concern is including PAP products under TMR. Many such products are provided either free of cost or at reduced prices to the patients. If TMR is included on them too, instead of benefitting, it will have a negative impact. The consumer will end up paying more," said a pharma representative requesting anonymity.
He said that the move will also impact the reference price. "The MNCs also send these products to other countries. If TMR is being put, it will create a lot of confusion on products which are labelled 'not for sale products'. The global pipeline will also get affected," he added. A lot of multinational companies including Novartis, Roche, AstraZeneca and run PAP programmes. The government has zeroed in on around 130 products including patented products on which they propose to implement TMR.