NEW DELHI: Awake till 2:40 am. Tossing and turning in bed post that. Sleeping at 4 am finally. Waking up at 7 again. Going to school. Writing an exam. This is not the routine of teens. But for the 16-year-old
R Praggnandhaaa
, the mind-work and legwork involved is the kind of life he loves living. Who would complain if the incentive of all that comes in the form of checkmating the world champion?
World number one
Magnus Carlsen
, number 10
Anish Giri
and number 22
Wei Yi
are names who recently found it tough to read the mind of India's chess wizkid
Rameshbabu Praggnandhaa
, 'Praggu' to his close ones. At the
Chessable Masters
last week, he beat all of them in the knockouts, before taking the battle in the final against world number two Ding Liren down to the wire. The Indian genius lost the title-clash in the blitz tiebreak.
Soon after that, close to the wee hours of the morning, the next thing on Praggu's mind was his 'Computer Application' examination at school in a few hours.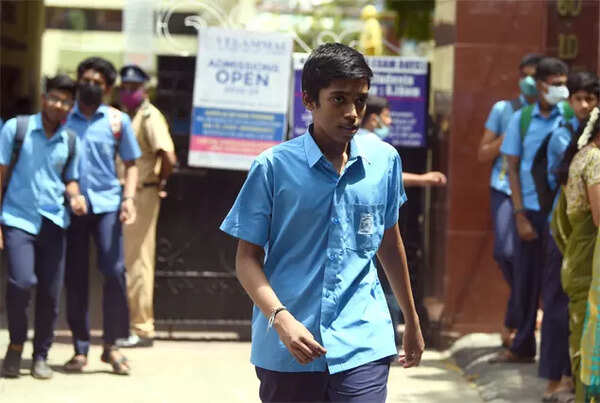 (TOI Photo)
The 16 year old spoke to TimesofIndia.com in an exclusive interview, where he talked about his experience of beating Magnus Carlsen again, the support he gets from Viswanathan Anand, juggling academics with his gruelling chess schedule and more.
The second youngest in the history of the game to become a Grandmaster, Praggu didn't initially expect his exam dates to clash with his chess, because he didn't expect to be in the final of the Chessable Masters.
"I definitely surprised myself," he told TimesofIndia.com in this special interview.
Excerpts…
Q. This year is turning out to be a landmark season for you so far. Did you expect this?
The year is still going on and I would like to play even better. This year, I think this tournament (Chessable Masters) has been one of the good tournaments. I also played well in the Oslo Esports Cup last month (finished fourth). So the past few months have been better. I am playing some good chess.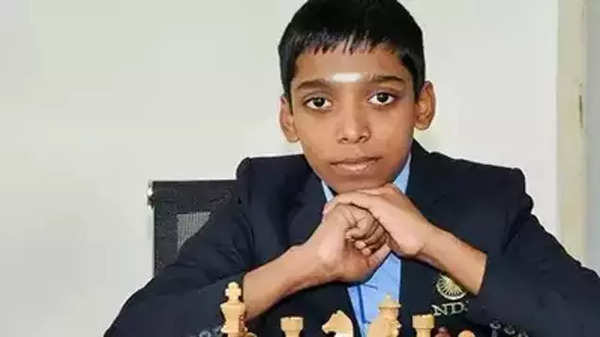 (Twitter Photo)
Q. You are just 16 and your evolution as a chess player has been remarkable…
I didn't play any tournaments for one and a half years (due to Covid pandemic), but the good thing was that I could still practice. That was a good thing for chess players compared to other sports. For example, in cricket, you can't practice every day during lockdown, you can't go out. Of course, you can do other things like gym (training), but not for everyone is it easy. For chess players, it's quite easy. You need a laptop and you can practice.
I am thankful to my sponsors Ramco, who have been supporting me since 2016, when I was a 10-year-old. Also recently I got inducted into Indian Oil. So I must say thanks to both. I don't think without their support it's possible to get to this level. Thanks to all the people who supported me and wished me (well).
Q. The pandemic has forced chess to be played online more than ever before. How have you found the two versions – online and over the board to be different?
There are good things and bad things about playing online or over the board. I enjoy playing both but at the same time, I feel over-the-board chess is more serious, tactical chess. Online is also quite serious. These (online) tournaments are very strong…(In) Over-the-board chess, there is a rating, so it's much more competitive in that sense. But…it (online chess) is quite nice/ You don't have to travel anywhere, sit there against each player. In general I like doing it.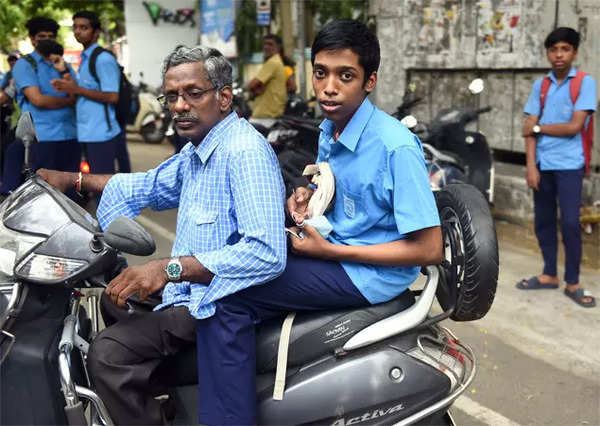 (TOI Photo)
Q. Did your coach RB Ramesh introduce any changes for the online version?
No, nothing as such. I was just doing my preparation the way I do. Nothing has changed. But definitely in the past few months, we have been analysing my game a lot. I am trying to work on the mistakes I am making, trying to rectify those.
Q. How do you prepare for a match? What is the mental and the physical side of it?
Usually, before a game, I don't prepare mentally. I just try to be ready for the game and try to be in the frame of mind to be playing a competitive game and so on. I work with Ramesh sir, he is my coach. I am also part of the Westbridge-Anand Chess Academy (WACA). Thanks to (Viswanathan) Anand sir, I have been learning a lot from there…It's always been a tight schedule for me with classes as I also practice with my coach.
Q. What has been the role of Viswanathan Anand and WACA in your growth as a chess player?
He (Anand) has been the highest (biggest) support for me. Whenever I have any doubts, I can just message him, he replies very soon…what I did wrong (in a match), I can just message him and sir will be ready to analyse it. I am very happy that I am part of the Westbridge-Anand Chess Academy as well where I have four other coaches. I am in constant touch with sir. It has been a great experience for me.
Q. What is life at school like for a chess grandmaster?
I don't have many friends in school. I don't go to school much. Whenever there is an exam, the teachers at the school will help me to study and to make me understand the lessons easily, so that I can write the exams. I must say thanks to Velammal School and the teachers there. Even now, I am going through board exams. They (teachers) have taught me important things, like important lessons which are hard to learn, they will teach me. In that way, I am fortunate to be in this school.
Q. Has the attention you received, especially after the wins against Magnus Carlsen, surprised you?
I accepted this event knowing that there will be exams as well, but I thought I will just play without any pressure. It's always a good opportunity to play these guys (Carlsen, Giri, Liren and others). But I didn't expect that I would reach the final. I definitely surprised myself, but I think I just played quite well. I am happy about that. It's a pleasant surprise.
Q. Do you rely on any particular technique?
Nowadays, it's hard to play one opening, so I don't come prepared. You just have to be broader with openings, always have some element of surprise for your opponent. That way I won't say I have a specific opening that works against everyone. It's just about trying to be broad and surprise everyone.
Q. Anything you are working on specifically to take this momentum forward?
Recently, I have played quite a few tournaments. In the past six months, I have been good. Earlier, I was making a lot of mistakes, which we identified and tried to work on. It's one of the reasons that I feel I am playing better now. I think one of the problems I had was time management, managing the chess clock, but I think now it's much better. Working on the weaknesses is important.