HYDERABAD: Five youths, including three minors and two 18-year-olds, from influential political families of Hyderabad, have been booked for allegedly gang-raping a 17-year-old girl in a moving car.
The five had been initially booked for molesting her. The additional charge was included on Thursday night after the survivor, in her statement, alleged that she had been gang-raped by the accused.
On Friday, officials said they have arrested one of the accused aged 18. They have identified the minor accused but haven't taken them into custody. The accused allegedly raped the girl in a parked car at an isolated spot in Banjara Hills after they picked her up from a pub in the posh Jubilee Hills area on May 28. On May 31, police registered a case under IPC apart from sections of the Pocso Act, based on a complaint by the girl's father.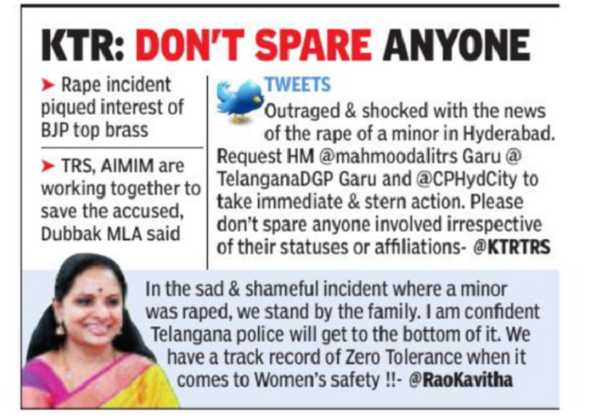 Even as cops searched for the suspects — including the son of a political leader holding a key position in a state government body — BJP members stormed Jubilee Hills police station alleging that officials were deliberately protecting the accused. They alleged that the accused were close to leaders from TRS and AIMIM.
During probe, cops found that the girl went to a non-alcoholic party at the pub at the invitation of her neighbour. Her father named the neighbour in the FIR. Police picked up the boy and during questioning, he said at the end of the party, he didn't see the survivor at the pub. When he called her, she replied saying she would contact him later.
Police accessed CCTV footage from various places around the pub on May 28 evening. The visuals showed the girl initially getting into a Mercedes Benz at the pub and going to a bakery in Banjara Hills. The youngsters left the bakery at around 6.30pm and this time, the girl got into an Innova with the youngsters. The son of an MLA who was in the Innova, got down near the bakery and police claimed that he was not part of the group that raped the girl.
Police have identified the Benz, registered in the name of a woman from Banjara Hills but they are yet to track down the Innova in which the gang rape allegedly took place.
While BJP members claimed that the survivor was raped after attending Telangana home minister Md Mahmood Ali's grandson's bachelor party, west zone DCP Joel Davis said the allegations were baseless. At a press conference, Dubbak MLA M Raghunandan Rao said, "It is a heinous crime, and TRS and AIMIM are working together to save the accused." He demanded that Mahmood Ali be removed from his position until the probe is completed.
Watch Hyderabad minor rape case: 5 accused identified including one MLAís son, probe underway