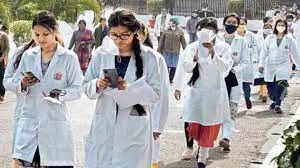 Haveri: Ukraine's loss in education revenue may turn into Kazakhstan's gain. A section of Indian students who did not find suitable medical courses in India and who cannot go to Ukraine because of the war there, have chosen the Kazak National Medical University as their campus.
At least six students from Haveri district are among those who have taken admission to Kazak National Medical University. From other Karnataka districts too, students have chosen Kazakhstan because of the lower fees than India. Earlier this year, over 16,000 Indian students were stranded in Ukraine when its war with Russia broke out.
One student, Naveen Gyanagoudar from Ranebennur in Haveri district, died due to Russian firing on March 1, 2022. All the Indian students have been evacuated.
"The Russian-Ukraine war has pushed Indian students to explore other options for MBBS abroad in Bangladesh, Nepal, Spain and Germany. But many students who have got admissions to Kazakhstan because of the lower cost of medical courses there. Indian students are getting MBBS seats for Rs 23-26 lakh.
Moreover, approximately 4,000 Indian students are already doing medical courses in different universities in Kazakhstan. But this year, the number may increase to 10,000," said Dr Ravikumar Malladad, president of the Indian Medical Association's (IMA) Haveri unit.
Nagaraj Kambali, a resident of Byadagi, said they had planned to send his son to Ukraine to study medicine, but as it was not safe due to the war "we have changed our destination to Kazakhstan and got him admitted to Kazak National Medical University from this academic year. Along with my son, at least eight students from Haveri district are admitted there. More than 300 medical students from Karnataka have got admission to different medical universities in Kazakhstan, as far as I know," he said.
"Kazakhstan is in central Asia and is safe for Indian medical students, so we got admission for my daughter in one of the medical universities there. According to the situation, this country is safe for our children now, and it's very convenient," said Kamala Naik, a resident of Hangal.
The National Medical Commission's regulations for foreign medical graduates (FMG) provide a 10-year window for students to obtain their degrees, complete their internships and apply for the FMG examination to receive their licences.