MUMBAI: With the
Shiv Sena
on the warpath in a bid to reclaim the party, the rebel Eknath Shinde faction retaliated strongly on Sunday bringing higher education minister Uday Samant over to Guwahati to join the coup. The rebel camp also moved the Supreme Court against the disqualification notices sent to 16 of their MLAs by deputy speaker of the state assembly Narhari Zirwal. A second petition demands that Zirwal recognise Shinde as group leader of the Shiv Sena's legislature party.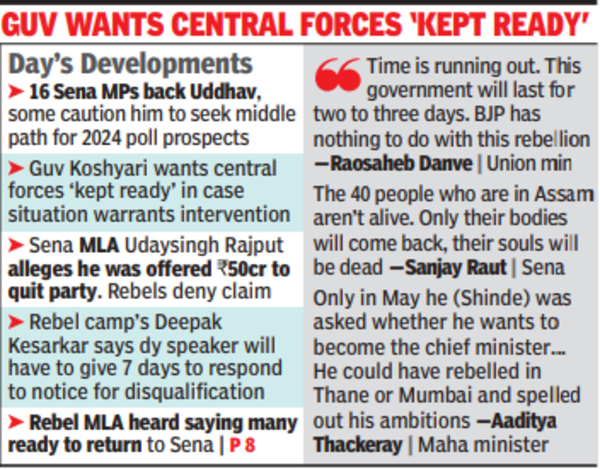 Late in the night, Shinde tweeted against the MVA alliance: "How can Balasaheb's Shiv Sena support those who have ties to Dawood Ibrahim who orchestrated the bomb blasts? I took these steps to oppose this."
मुंबई बाँबस्फोट घडवून निष्पाप मुंबईकरांचा जीव घेणाऱ्या दाऊदशी थेट संबंध असणाऱ्यांना हिंदुहृदयसम्राट वंदनीय बाळासाहे… https://t.co/4laJD1hAWp

— Eknath Shinde – एकनाथ शिंदे (@mieknathshinde) 1656260089000
Samant, who was earlier with the NCP, is the eighth minister to switch sides from chief minister Uddhav Thackeray's cabinet. This leaves just three Sena ministers in the cabinet.
Busy weekend for rebels as they boost tally; party livid
Maharashtra higher education minister Uday Samant, who joined the rebel faction on Sunday, has reportedly negotiated for a cabinet berth and guardian ministership of Ratnagiri in the new government.
The rebel group will seek more time to respond to the disqualification notices sent to its 16 MLAs. The deadline is Monday evening. "We should be given one week's time since this is not an emergency," said rebel MLA Deepak Kesarkar. Meanwhile, BJP leader and Union minister Raosaheb Danve stirred the pot with his comment at a rally in Jalna where he said, "We will only remain in the opposition for two-three days".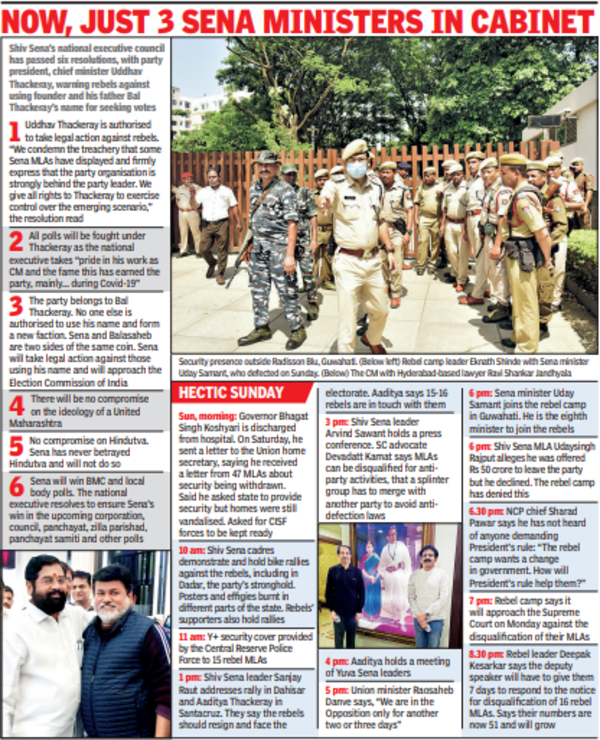 Fifteen rebel MLAs received Y+ protection from the CRPF by Sunday morning, a day after governor B S Koshyari had written to the Union home secretary. In his letter, he said that he had written to the state police to provide protection to 47 MLAs. "Police security is a state subject. This shows the hand of the BJP," said the Shiv Sena's Arvind Sawant.
In order to boost the morale of the cadre, Shiv Sena held rallies and demonstrations through Sunday. However, party leader Sanjay Raut stoked a new controversy with his explosive utterances against the rebels at a rally in Dahisar.
"The 40 MLAs are living corpses. Their souls are dead," he said. He later added, "The corpses of 40 MLAs will come here. We will send them for a post-mortem to the state assembly."
Taking another dig at the rebel camp, Raut said, "In the Kamakhya temple, they sacrifice goats. We have sent 40 goats. Do the sacrifice". Taunting the ministers who had switched sides, he said Sandipan Bhumre was once a watchman in a sugar factory. "Water supply minister Gulabrao Patil was a chai-tapriwala and will go back to being one," he said.
Raut's comments drew a strong reaction from rebel MLA Deepak Kesarkar. "Such was Bal Thackeray's greatness that he gave opportunities to all. Raut should control what he says," he pointed out.
At his rally in Santacruz, Aaditya Thackeray dared the rebels to resign and face an election. "The bow and arrow symbol will remain ours and the rebels will have to merge with another party," he warned. He said 15-16 rebels were with Shiv Sena and wanted to return. "It's sad to see these MLAs enjoying themselves in a hotel. There is a flood in Assam and people don't have enough to eat."
Emphasising that the rebels were on shaky legal ground, Sena held a press conference with their lawyer, SC advocate Devadatt Kamat. "Legally, disqualification can be invoked for anti-party activities. The MLAs did not attend meetings that were called in an emergency situation," he said.
He added that after 2003, a splinter group with 2/3rds majority could escape the anti-defection law only if they merged with another party. He also said that the deputy speaker could perform all the duties of a speaker and a no-confidence motion could not be moved against him if the state assembly was not in session. On the issue of the whip, he said, "A whip is selected by the original political party, not by the legislature party."